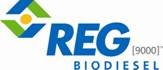 Iowa-based Renewable Energy Group (REG) has announced the availability of their brand of biodiesel at a large-volume biodiesel terminal in Ogden, Utah.
This company press release says this terminal is part of the company's national infrastructure plan.
REG has a strategic agreement with Kellerstrass Oil Co., a petroleum company and owner of the Ogden terminal, to offer blending of petroleum diesel with REG-9000 biodiesel at the site.
Company officials cite the upcoming Renewable Fuels Standard (RFS) as one driver of biodiesel demand. "The RFS calls for 500 million gallons of biodiesel to be used in the U.S. in 2009. This biodiesel blending facility allows petroleum distributors in the Greater Salt Lake area and beyond to start now in preparation for this legislation implementation," explained Gary Haer, Vice President of Sales and Marketing for Renewable Energy Group.
Haer noted that the Utah terminal is just one piece of Renewable Energy Group's strategic plan to increase biodiesel availability. "We are committed to meeting U.S. demand for biodiesel through infrastructure creation," explained Haer. "REG currently markets biodiesel to all 48 continental states, and with this and other strategic terminal locations, REG is able to extend our biodiesel product offering. We aim to help our petroleum distribution customers more quickly access high quality biodiesel to meet their customers' demands."
REG sells biodiesel at to wholesalers at more than 20 other locations nationwide.