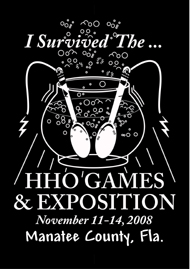 Hydrogen is the fuel of choice at the non-profit HHO Games & Exposition this coming Tuesday, Nov. 11th at the Manatee County Fairgrounds, in Palmetto, Fla.
This press release says inventors will be testing hydrogen-powered devices for cars, trucks, boats, campers, motorcycles and generators during the four-day round of seminars and the world's first large-scale display of water-powered vehicles:
"The Games are a national Veterans Day effort to reduce dependence on foreign fuel and save U.S. soldiers who fight and die to secure the nation's oil lifeline to the Middle East," organizer Joe Shea said. "We hope to reduce hunger and suffering tied to the high cost of fuel."
"Thousands of construction jobs have been lost, and three local banks in the country have collapsed in the region's housing meltdown, he said. With hydrogen a national cottage industry can be created to quickly convert gas-guzzlers to gas-savers with hydrogen kits.
The event would mark a significant transition in public acceptance of hybrid fuels. The attraction is the low-cost, low-tech nature of the kits, substantial gas savings and rapid engine-performance improvement. They are safe because no gas is stored in the kits, which only produce hydrogen on demand for instant use with gas or diesel fuel.
Inventors and thousands of the simply curious will attend seminars by people like ZeroFossilFuels, a Connecticut man, or Nevada-based SmartScarecrow, who have independently produced hundreds of the more than 17,300 videos on YouTube showing a year-long process of building, testing, installing and using HHO kits the size of a small blender. With that vast cross-pollination of ideas, innovations occur almost daily.
You can find out more at the games web site: hhogames.com.