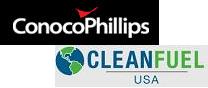 Alternative fuels might be getting a boost as a major fuel retailer will help make propane more available.
This story from Greentech Media has details:
Today, for instance, ConocoPhillips said it will help with CleanFuel USA to install propane dispensers over the next three years at 76 stations. Conoco will supply the propane and CleanFuel will put in the pumps. How many will get installed? Who knows, but it does signify some effort on Conoco's part.
Propane has lower greenhouse gas emissions, wheel-to-well, than gas or diesel and it's comparatively cheap — it costs about $2.30 a gallon and you get federal tax credits on top of that. There's a lot of it too. It's not as clean as cellulosic ethanol, but it is available now.
To date, propane cars are largely only owned by fleets. Thus, some, if not most, of these pumps will be found at places where buses and truck congregate. Still, it could expand and both Ford and General Motors have signaled they will expand their propane programs.
There's an estimated 10 million propane-fueled vehicles worldwide, but look for that number to rise if the fuel is available. CleanFuel officials say 1.5 billion gallons a year of propane could be put into the market immediately without hurting supplies.