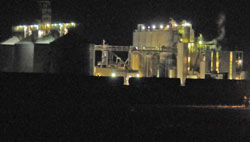 As I was driving into Emmetsburg, IA last night I saw this plant off in the distance. I'm pretty sure this is the POET Emmetsburg ethanol plant. Actually, it's the AGP soybean processing plant. The POET plant is behind it from the direction I took the photo. I'm here in town for today's Project LIBERTY field day. We're supposed to see some field demonstrations but it rained last night and it's raining right now so we'll see what happens. Here's some information about the field day from a recent POET news release.

Farmers next month will see first-hand how equipment manufacturers are responding to the latest advancement in ethanol production and the new revenue opportunity for farmers: harvesting corn cobs for cellulosic ethanol production.
POET hosts Project LIBERTY Field Day Nov. 6 in Emmetsburg, Iowa. The event, which is open to the public, will bring equipment manufacturers large and small together with farmers at POET Biorefining – Emmetsburg to show prototype equipment for efficiently harvesting corn cobs. Farmers will have the chance to talk with equipment dealers and see prototype equipment in action.