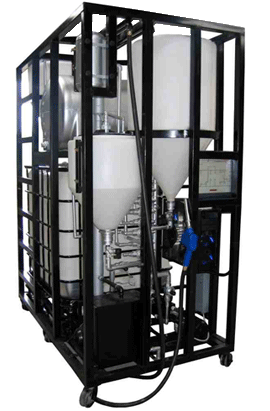 Texas-based Allard Research and Development is now selling the "world's first mini-refinery" for consumer use that produces both ethanol and biodiesel.
This post from the gas2.0 blog says it can crank out up to 120 gallons per day of ethanol and 450 gallons per day of biodiesel:
Consisting of two pieces of equipment — an ethanol boiler and the mini-refinery — the whole system can fit into an area of less than 30 square feet with 8 feet of clearance and is completely automated.
According to Adam Allard, President of Allard Research and Development, the EB120 ethanol boiler is their "core" product, acting as the "heart" of their systems. The AFS125 mini-refinery uses the boiler as part of its system, but the boiler and mini-refinery are sold separately.
The mini-refinery is computer touch screen controlled and features an Apple Mac Mini as its primary automation computer. When the boiler and the mini-refinery are used together, the Mac Mini also controls the boiler operation.
While the unit is designed for consumers, its $29,000 price tag (plus another grand for the separately-sold boiler) makes it a bit cost-prohibitive for the homebrewer just trying to save a few bucks on his gas bill. But for businesses, municipalities, farms, and even maybe some large home users, which would use the 120 gallons of ethanol and/or 450 gallons of biodiesel a day, this could be a good fit… maybe even saving you up to $500,000 a year.
Check it out for yourself on the Allard Research website: www.allardresearch.com/afs125.html.