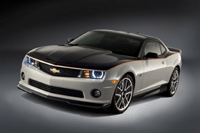 The 2008 SEMA (Specialty Equipment Market Association) has debuted the new 6.2L V-8 Camaro flexible fuel engine. The new Camaro is the Dale Earnhardt Jr. Concept, which was actually produced with input from Jr. himself. He is a vintage Camaro enthusiast and adding the higher octane of E85 to this vehicle will give an extra boost to horsepower. According to 4WheelsNews, the base car is a Camaro SS tuned use the higher octane fuel, E85.
"The new Camaro is a 21st century sports car for the young and young at heart," said Ed Peper, GM North America vice president, Chevrolet. "Wherever your automotive passion lies, the Camaro complements it with world-class design and an exciting driving experience. The concepts unveiled at SEMA accentuate those qualities and trigger the imaginations of countless enthusiasts."
The exterior of the vehicle is a nostalgic gray-over-white paint scheme with 21-inch five-spoke wheels, a dovetail spoiler and other Chevy Accessories exterior modifications.
Currently, General Motors has the most E85 compatible vehicles on the road than any other automobile manufacturer.