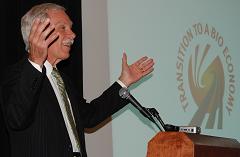 As promised, I've got some more material for you from Secretary of Agriculture Ed Schafer, who addressed attendees of the Farm Foundation's Transition to a Bioeconomy: Environmental and Rural Impacts Conference in St. Louis, Mo.
Schafer praised Farm Foundation's long commitment to promoting the free-form type of discussion and debate we saw at this just-concluded conference of state and federal government officials, academics and representatives of the private industry. He says this is where real solutions to the challenges that face Rural America will be found.
"I'm really pleased that USDA can play a strong part and [be] a strong collaborator in this important work."
Schafer says we must ask the tough questions, such as how are we going to grow the feedstocks of the future, what are they going to be, where we going to grow them… and how we get those feedstocks into the biofuel supply chain.
"The science that is critical to for the trans to a new bioeconomy also demands a strong partnership as we move forward on the research arena… the federal, the land grant and the private sector research coming together for this important mission." Schafer adds that as we make the transition, corn ethanol is the bridge to cellulosic ethanol using the infrastructure and industry established by the corn ethanol industry.
Listen to Schafer's address to the Farm Foundation here: [audio:http://www.zimmcomm.biz/farm-foundation/Schaferaddress.mp3]
Download audio file here.