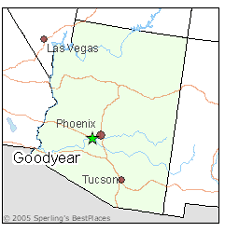 Recently, Goodyear, AZ received a $91,000 grant from the Salt River Pima-Maricopa Indian Community casino revenues to add E85 infrastructure. About one-quarter of the city's 370 vehicles can run E85.
According to the Arizona Republic, Goodyear fleet superintendent Richard Sweepe said the city has been buying FFVs for four years, but has had no E85 to fuel them. "If we were looking to replace our police car fleet and there were E85 vehicles available to meet our needs, we always went with the E85 vehicle," he said. Eighty-five of the city's 103-vehicle flex-fuel fleet is for the Goodyear Police Department, one of the city's largest fuel consumers, according to Sweepe.
There is no specific timeline for adding the E85 equipment at one of the city's three fueling stations. The city can receive the grant funding as early as November.
Currently, there are twenty-three E85 fueling locations in the state of Arizona.