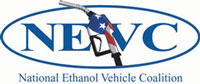 The National Ethanol Vehicle Coalition (NEVC) announced today that the number of E85 stations has now exceeded 1,800. There are currently 1,802 private and public refueling stations across the U.S. The number of facilities have grown 28 percent since October 2007.
"It's exciting to see E85 stations grow so rapidly within the past year," noted Executive Director of the National Ethanol Vehicle Coalition, Phil Lampert.
Currently, the states with the highest number of E85 sites are: Minnesota with 357, Illinois with 188 and Missouri with 112. Unfortunately, seven states do not offer E85 including: Maine, New Hampshire, Vermont, Rhode Island, New Jersey, Alaska and Hawaii.
Lampert added, "Fuel retailers have many incentives to add this clean, renewable product to their facilities. The spike in E85 fueling facilities is a direct reflection of the Federal income tax credit that the NEVC and our partners worked hard to implement in 2005. Additionally, the provisions of the Energy Independence and Security Act (EISA) of 2007 that allowed franchise operators to install E85 fueling sites are two of the most significant Federal actions that have been implemented to address the growth of E85 fueling nationally. We are hopeful that future federal actions will appropriate at least a part of the $200 million that was authorized in EISA to assist with continuing to expand the E85 fueling infrastructure."