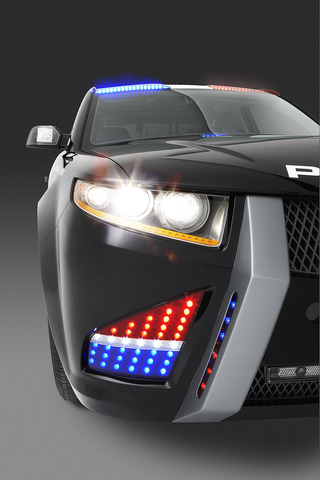 A police car, designed from the ground up specifically for law enforcement officers and will run on biodiesel, will debut during a nationwide tour starting tomorrow (Oct. 14th).
The Carbon 'E7' built by Carbon Motors Corporation will be shown during the nine-city 2008 Pure Justice Tour starting in Chicago, heading to the West Coast and finishing in Florida in the middle of December:
The vehicle will display a robust collection of world-class technological and design enhancements, including an ergonomically correct cockpit inspired by jet fighters and helicopters, a high powered clean-diesel engine capable of running on biodiesel (that will provide 40 percent improvement in fuel efficiency and will meet or exceed the driving performance of current vehicles), integrated external and internal surveillance capabilities, radar, LoJack, an automatic license plate recognition system, radiation and biological threat detectors and 360 degree, high conspicuity built-in LED emergency lighting.
You can read more about Carbon Motors on the company web site: www.carbonmotors.com.