With high gas prices cutting into motorists' pocketbooks and Michigan's auto industry, it's no wonder that biodiesel, ethanol, wind and solar are figuring into the U.S. Senate race between incumbent Democrat Carl Levin and Republican Jack Hoogendyk.
This story from MLive.com says the two have very different approaches on how to fix the energy crisis that has crippled the state: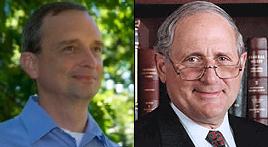 Levin and his Republican opponent, Jack Hoogendyk, both say the U.S. must reduce its dependence on imported oil. But they disagree on whether drilling should be allowed in Alaska's Arctic National Wildlife Refuge and what should be done to prompt alternative energy development.
Hoogendyk said he would boost domestic oil production by supporting offshore drilling and tapping the Arctic National Wildlife Refuge, which he says can be done without harming the environment.
Levin has opposed drilling in areas such as the Arctic National Wildlife Refuge and the Great Lakes because "drilling could have devastating and permanent effects on fragile ecosystems."
Oil and gas companies already have leases on 68 million acres of federal land for exploration and drilling that have not yet been used, Levin said. The country needs to turn more toward renewable energy such as solar, wind and biomass to make the energy supply more stable and self-sufficient, he added.
The article goes on to say how schools and companies in Michigan are exploring more ways to expand alternative energy use, and Levin says the federal government needs to be more involved in those efforts.