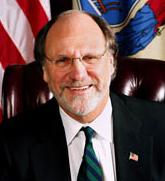 New Jersey Governor Jon Corzine has announced he wants to triple the goal for the amount of offshore wind power the state will produce by 2020.
Corzine called for the higher amount as he announced the selection of Garden State Offshore Energy (GSOE) as the recipient of a grant incentive to build New Jersey's first offshore wind pilot:
"Our draft Energy Master Plan identified a goal of 1,000 MW of offshore wind by 2020," said Governor Corzine. "We listened closely to our stakeholders, considered current economic conditions and the dynamic state of offshore wind technology, and we knew we had to go a lot further.
"Today, I am announcing that we're not just doubling our commitment, we're tripling it. New Jersey will support and encourage the development of 3,000 MW of wind power off its coast by 2020, which will be 13 percent of its total electricity. And we will get to 1,000 MW by 2012."

Garden State Offshore Energy, a joint venture of PSEG Renewable Generation and Deepwater Wind, was the firm selected through a competitive grant solicitation process. That process concluded last Friday when the NJ Board of Public Utilities voted to award a $4 million grant to Garden State Offshore Energy (GSOE).
The GSOE project will be a $1-billion, 345MW wind farm southeast of Atlantic City, 16 miles from the coast. When completed, it would power approximately 125,000 homes annually.