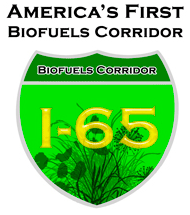 You can now travel from the Great Lakes to the Gulf Coast, entirely on biodiesel and ethanol.
This story from WSMV-TV in Nashville, Tenn. says officials from Alabama, Kentucky, Indiana and Tennessee, along with representatives from the federal Department of Energy, joined together to dedicate Interstate 65 as America's first biofuels corridor: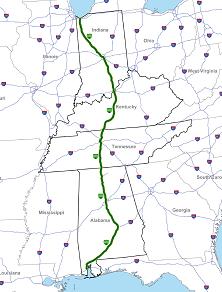 "Tennessee has already been working to make these clean, renewable biofuels available to more motorists traveling in our state," said Gov. Phil Bredesen. "I'm pleased to see us join forces with other states to make Interstate 65 the first corridor in the country to make biofuels widely available."
"In this environment, it is imperative that the state look at other energy options, such as biofuels. Today, through the governor's BioTenn Initiative and grants like these from the U.S. Department of Energy, we are well on our way toward making biofuels a real option for Tennesseans," said [Tennessee Department of Transportation Commissioner Gerald] Nicely.
Officials say you can drive the entire 886 miles of I-65 and never be more than a quarter tank of gas from the nearest E85 station. In addition, along the way there's 29 public refueling stations: 19 E85 in Indiana, 1 E85 in Kentucky, 3 E85 in Tennessee and 7 B20 and 6 E85 in Alabama.
You can read more about I-65: America's Biofuels Corridor by clicking here.