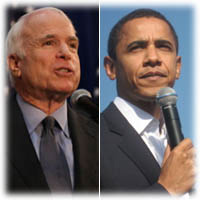 Just when I thought we would not get much on renewable energy in tonight's presidential debate from Belmont University in Nashville, a question from the crowd has started the conversation in earnest. A lady asked if the candidates would take the same quick call-to-action approach to solve the looming global warming crisis as we saw in the recent financial crisis.
Republican Sen. John McCain says he supports the development of cleaner-burning vehicles, such as hydrogen-powered cars as part of the solution to solve the climate crisis.
Democrat Sen. Barack Obama says this country has the potential to create five million green jobs in the near future, if we development the alternative energy sources available. He compares what renewable energy could do for the economy with what the computer did for it. Obama reiterates his commitment to solar, wind, geothermal and nuclear power as well.
Obama has taken a direct shot at McCain's renewable energy record by pointing out that McCain has voted against alternative fuels 23 times. McCain countered that some of those included votes against big tax breaks for Big Oil.
Both men have touched on the issue of a resurgent Russia, fueled by petro dollars… which comes back to the issue of how they are going to make that a non-issue by freeing us from foreign oil.
That's it for the night. We'll get together again in about a week when the third and final presidential debate comes on.