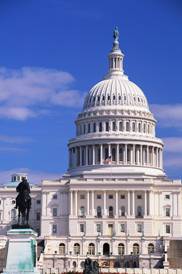 The U.S. House of Representatives has reversed direction from just a week ago and approved 263-171 the Senate's version of the $700 billion bill to fix the nation's financial crisis.
And this story from Reuters says incentives for biodiesel, wind and solar are also the big benefactors from the vote:
Legislation to extend the renewable energy tax credits, which were set to expire at the end of the year, had been stalled by a dispute between the House and the Senate over how to pay for the tax breaks.
However, attaching the energy tax credits to the economic rescue package gave them new life.
The legislation extends for one year the production tax credit for wind energy, with an eight-year extension for investment tax credits for businesses and homeowners to install solar energy equipment.
Buyers of plug-in electric cars would receive tax credits ranging from $2,500 to $7,500.
The bill also extends a $1 per gallon production tax credit for biodiesel through 2009. This measure closes a "splash and dash" loophole where companies mixed foreign biofuels with U.S. biodiesel to receive the U.S. subsidy, but then sold the fuel at a discount to European markets.