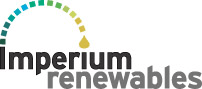 Investors have stepped in to give troubled Imperium Renewables, which operates a 100-million gallon biodiesel refinery in the Seattle area, a boost to repay some of its debts.
This story from the Seattle Times says Imperium has also hired a third-party debt restructuring firm to help it negotiate down debt with other creditors:
"With this recapitalization and cooperation of our creditors, we hope to resume operations as soon as possible," said Chief Executive John Plaza in a statement.
Neither the sum contributed by investors nor the total outstanding debt were disclosed.
Closely held Imperium raised significant amounts of cash and obtained a $41 million loan and a $60 million credit facility from Societe Generale as it built one of the nation's largest biodiesel plants, the first in a planned global network.
But plans for further expansion and a public stock offering were scrapped as the company struggled with the high cost of raw materials and financial markets unreceptive to biodiesel ventures.
Officials believe that this will be significant step in turning the company's fortunes around but admit it still has an uphill battle ahead.