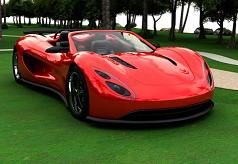 A hot rod built to run on hydrogen is expanding its horizons to run on another green fuel… ethanol.
Austin, Texas-based Ronn Motor Company has announced its eco-exotic hybrid, the Scorpion™, the first production automobile to produce Hydrogen on Demand (HOD) through its proprietary H2GO™ system, will be ethanol compliant and built to run on a 70% gasoline or ethanol and approximately 30% hydrogen mix. Officials say it will reduce fuel costs and greatly reduce emissions:
While hydrogen and ethanol have traditionally been used separately, the combination of these two alternative fuels gives consumers more choices and reduces dependence on foreign oil.
COO Damon Kuhn added, "Ronn Motor Company is dedicated to alternative fuel strategies to help lower our dependence on foreign oil and we want to give our customers access to these solutions. To the best of our knowledge, no other automobile manufacturer is working on the possible combination of these processes."