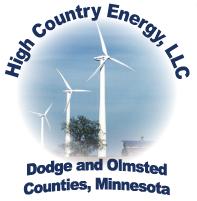 The nation's first intrastate public offering for the development of a wind project has had a successful completion… just four months after it was made available to the public.
National Wind's High Country Energy, LLC, has announced that it has raised an undisclosed amount of capital from Minnesota investors that will be used to develop a series of utility-scale community-owned wind farms in Dodge, Olmsted and Mower Counties, Minnesota:
"Through the offering we now have approximately 60 additional Minnesota investors in High Country Energy, helping solidify our goals for community participation," says Mark Lucas, Vice President of National Wind, and Project Lead for High Country Energy. "The wind energy business represents an exciting growth and investment opportunity and this offering has allowed interested investors to purchase a position within it. Wind energy is more mature than other renewable energy sectors–it has good track record and is growing rapidly. The U.S. wind industry is expected to grow from 16,800 megawatts of installed capacity in 2007 to over 49,000 in 2015."
Proceeds from the offering will be used to develop High Country Energy's multiple phases.
Company officials expect the High Country Energy wind projects to cost hundreds of millions of dollars to build. They add the money raised will help cover initial development, and more will be needed for construction of the wind farms.