A research service for the chemical industry say that the U.S. is poised to be the world leader in biodiesel consumption by 2012.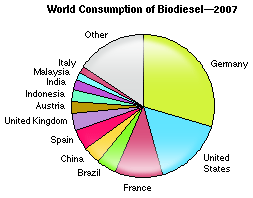 According to a press release posted on MarketWatch.com, SRI Consulting has published its Global 2008 Biodiesel Report, which says Americans will consume nearly one-fifth of all the world's biodiesel by 2012… a dramatic turnaround from being a distant second to Europe just a few years ago:
A slower pace of growth is projected for the global biodiesel industry due to market uncertainties: ongoing fuels versus food debate, rising raw material costs, changing regulatory environment, a slowing global economy and the current financial crisis.
An important development over the last several years has been the shift in global biodiesel patterns. Only five years ago Europe was a dominant player, with 83% of capacity. By 2007 the European share had declined to about 46% as North America and Asia grew to 23% and 19% respectively.
The release goes on to say that the future success of the biodiesel industry will rely on political support and incentives.