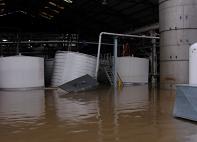 Twelve feet of water can do a lot of damage… just ask the folks at GreenHunter Energy. Their biodiesel refinery in Houston had just opened this summer has been knocked out of commission when the eye of Hurricane Ike passed nearly directly over the facility.
GreenHunter officials are providing an update (along with pictures of the damage) that caused a number of storage tanks to float and ruined some of their feedstocks and chemicals, as well as tearing up electrical equipment, pumps and motors. The good news is: they have insurance:
Fortunately, the Company anticipates that most of the damage sustained by its wholly-owned subsidiary, GreenHunter BioFuels, Inc., will be covered by existing property and casualty insurance along with business interruption insurance. Insurance adjustors for the Company and underwriters have been at the refinery and are daily assisting management in preparing our claims. While our personnel continue to find damage caused by the storm, it is currently estimated that total damages are approximately $22.4 million.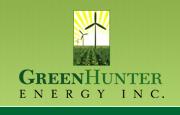 Through the immediate and tireless efforts of our staff and management team, the refinery has been substantially cleaned of layers of mud, spilled materials, and debris from the flood. Repairs were commenced within one week of Hurricane Ike's landfall strike. Major mechanical and operational components of the refinery remain intact. The receipt and installation of necessary electrical components from third parties is the primary reason for delay in restarting operations. It is anticipated that the U.S. Coast Guard will approve our barge docking facilities for resumption of operations, enabling the Company to begin moving products and feedstock early this week. The Company continues on target to meet the estimate of resumption of operations on or before October 31, 2008.
In an effort to keep their customers and shareholders updated, GreenHunter has posted video and pictures of the damage on its web site: http://greenhunterenergy.com/HurricaneIkeDamage.html.