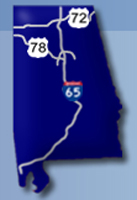 Alabama Governor Bob Riley will soon increase the public's access to E85 and biodiesel. Tomorrow, a grand opening celebration will be held at two fueling stations in Mobile. Riley and others will open the stations at 11:00 a.m.
On October 3rd, 2006 Governor Bob Riley announced a federal grant awarded by the U. S. Department of Energy (DOE) to provide Alabama with funds to add pumps for E85 ethanol fuel and five pumps for B20 biodiesel fuel along I-65. When finalized, owners of flexible fuel vehicles and diesel vehicles will never be farther than a ¼ of a tank away from an E85 or biodiesel pump along I-65.
To kickoff the openings, Fords Fuel will offer E85 for 85 cents a gallon from 11:00 a.m. to noon. The rest of the day motorists will pay only $2.85 for a gallon of the alternative fuel.