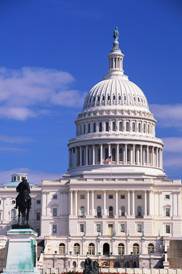 Things could be looking up for renewal of renewable energy incentives as the U.S. Senate has approved $17 billion in tax credits for wind, solar, geothermal and ocean energy systems.
This article from cleantech.com says passage comes on the heels of last week's similar vote by the U.S. House (see my Sept. 17th post):
The tax credits, due to expire at the end of the year, now must be reconciled with those approved by the House before heading to the president, who has said he will likely support the measure. The House is expected to take up the bill Wednesday.
If enacted, the Senate bill:
* Extends tax credits by eight years for residential and commercial solar systems, one year for wind energy, and two years for other renewable energy sources, such as wave and ocean tide.
* Gives a 30-percent tax credit to homeowners who install solar systems and businesses that install solar, wind, geothermal and ocean energy systems.
* Gives a 10-percent tax credit to homeowners for energy-efficiency improvements, such as insulation, replacement windows, water heaters and heating and cooling equipment.
* Offers a tax credit of $2,500 to $7,500 for plug-in electric cars, depending on the battery capacity of the vehicle.
Senate leaders are encouraging House members to approve this version of the bill as the best chance for the President to sign the bill to get the credits renewed before the end of the year.