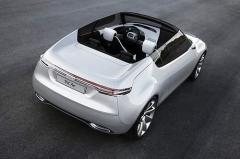 Saab plans to display a new E85 concept vehicle at the Paris autoshow in October. The futuristic Saab 9-X Air BioHybrid concept is a four-seat convertible that features wrap-around glass. It is designed to include a 1.4-liter Saab BioPower engine with turbocharging.
The wraparound "glasshouse" is tinted and is part of a system Saab calls a Canopy Top. A retractable hard top slides underneath the rear deck for what Saab promises would be "fresh air motoring free from buffeting." With the top raised, says Saab, "it assumes the look of a true sports coupe."
Also announced recently is that GM will offer its five-door, hatchback Pontiac G3 as E85 compatible in Spring 2009. The G3 is now sold in Canada and Mexico. The 106-horsepower small car will get an estimated 27 miles per gallon in the city and 34 mpg on the highway using a 1.6L Ecotec four-cylinder engine with a five-speed manual transmission or optional four-speed automatic transmission.