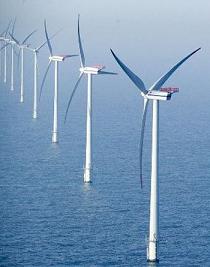 Rhode Island is looking to literally map out its wind energy future.
This story from the Providence (RI) Journal says that the state has enlisted oceanographers, engineers and other experts from the University of Rhode Island to determine where would the best places be for off-shore wind turbines… a massive $3.2-million effort:
Soon, the state is scheduled to select one of seven companies that have submitted proposals to build and operate wind turbines designed to meet Governor Carcieri's goal of providing enough power to supply 15 percent of the state's electricity. Cost estimates have run as high as $1.9 billion.
Rhode Island's plan is to have the state's Ocean Special Area Management Plan find the most suitable sites for wind turbines so Rhode Island can avoid the lengthy and costly controversy that has surrounded the Cape Wind project proposed for waters off Nantucket. Most other states have their energy offices or economic development personnel leading their wind-farm siting efforts. Massachusetts just enacted a law this year to plan uses of its coastal waters, but Rhode Island officials believe they are ahead because they have been doing such planning for decades.
Rhode Island officials believe this plan will make them the most competitive in the off-shore wind energy game.