Two guys and a Volkswagen Jetta running on biodiesel are trying to re-create the crazy coast-to-coast run made famous in the movie "Cannonball Run," while proving the value of the green fuel they're running on.
Hopefully, they'll still be rolling along when you're reading this, but right now (Monday evening at about 9:45 CST), two ad execs from Atlanta are in their first hour of what's expected to be a 36-hour journey from New York City to Los Angeles… running on Willie Nelson's BioWillie biodiesel… non-stop, except for switching drivers. In fact, Nik Bristow and Brian Pierce from Atlanta's Fitzgerald+CO advertising firm won't even stop for bathroom breaks (Check out some of their hilarious videos regarding the condom catheters they'll be using).
If you're tuning in before Wednesday, Sept. 24th at about 9 a.m., you might be able to catch some of their live UStream.tv video and chat with them from their web site: willierun.com.
Here's a quick screen capture of what I saw when I tuned in Monday evening: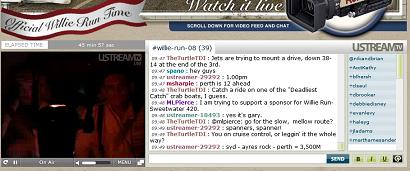 The video is pretty dark, but some of the comments are pretty funny (I love the one that I saw at about 30 minutes into the 36-hour drive "Are you there yet?").
The important thing is Bristow and Pierce are drawing attention to biodiesel and its great fuel-saving abilities.