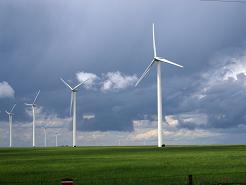 Five Midwestern states have joined together to develop an electric transmission system that should help promote wind energy in the region.
This AP story from the St. Paul (MN) Pioneer Press says Iowa, Wisconsin, Minnesota, North and South Dakota have formed the Upper Midwest Transmission Development Initiative:
The coalition of governors will study the costs of developing more wind energy and delivering it on power lines. The states also plan to propose some form of financing new transmission lines.
Lack of adequate power lines is a major impediment to wind energy development in the region.
The initiative will identify the region's wind energy resources and the transmission infrastructure needed to develop them in the most cost-effective manner.
State officials also will seek solutions to a number of current barriers to additional transmission investment, such as how costs of new power lines should be allocated.
The group will meet for the first time in October and hopes to have results of a study of regional electrical transmission capacity next year.