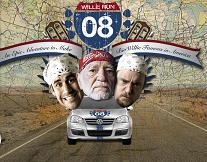 Following the route of the famous Cannonball Run of the 1970s (made even more famous by the movie in 1981), a pair of advertising copywriters will attempt to go from the East Coast to the West Coast… entirely non-stop and entirely on biodiesel.
This press release from the Willie Run '08 web site has more information:
Scheduled for departure from Midtown Manhattan on September 22, Nik Bristow and Brian Pierce from Atlanta's Fitzgerald+CO will embark on "Willie Run '08", the first-ever non-stop, cross-country trek powered entirely by Willie Nelson's own BioWillie® biodiesel. The two-man team will follow the route of the infamous Cannonball Run and arrive less than 40 hours later in Los Angeles on September 24. They won't stop for fuel. They won't stop to go to the bathroom. In fact, excluding driver changes, they won't stop for anything for almost 3000 miles.
Their vehicle of choice? The "Willie One," a diesel Volkswagen Jetta with an additional 60 gallons of fuel capacity that, along with the diesel car's superior fuel economy of approximately 45-50 mpg, will allow it to travel coast-to-coast without a single fuel stop.
Bristow and Pierce have been biodiesel supporters for years and are ardent fans of Willie Nelson. After discovering the BioWillie® brand and linking those two passions, they began developing a relationship with BioWillie® and creating print ads and other marketing concepts on a pro bono basis.
"We'd been working on the BioWillie brand for a while and we were doing some pretty cool stuff. But it occurred to us that we were working with Willie Nelson, the original outlaw of the music industry, so we needed to be doing something outlaw. So we came up with Willie Run '08," said Pierce.
There are plenty of questions that come to mind, especially "what about going to the bathroom?" Well, you can find out the answer to that and more in some pretty hilarious videos the guys have posted on their web site: willierun.com.