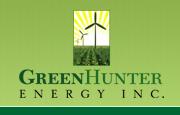 The nation's largest biodiesel refinery, the GreenHunter Energy Renewable Fuels Campus in Houston that is capable of cranking out 105 million gallons of biodiesel a year, will be shut down for the next six to eight weeks because of the damage caused by Hurricane Ike.
This information from the company's web site has details:
Structural losses at the facility include damages to offices, piping between some reagent tanks, some small and intermediate tank foundations, two bulk storage tanks – one vegetable oil feedstock tank and one methanol tank. The vegetable oil tank contained edible canola oil and the facility released some canola oil off-site due to high water. The release of canola oil to the environment was estimated at less than 50 barrels. In response to the release of the vegetable oils into the environment, the Company promptly notified all appropriate local, state, and federal agencies, as well as the Company's third-party oil spill response organization.
GreenHunter Energy's Renewable Fuels Campus is currently without power or utility service, and will likely be out of operations for six to eight weeks. This estimate includes the expected timeframe in which the Company's local utility in Houston, Center Point Energy, is able to restore electricity and natural gas service to the location. In the short term, temporary interruptible power will be provided by diesel and gasoline-powered generators with 600 kW and 5 kW capacities, respectively. Over the weekend, the Company was able to procure from the Gulf Coast of Louisiana, these generators which previously had been shipped there as backup power supply in the wake of Hurricane Gustav.
The good news: company officials say the damage to major process equipment is minimal. Something else to keep in mind is that since there are biodiesel refineries all over the country… and more opening every day… it's not like the petroleum industry that has most of its eggs in one, hurricane-prone, no-new-refinery-in-more-than-35-years basket.