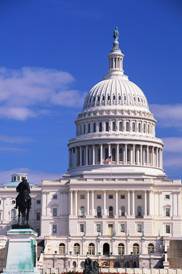 The U.S. House has approved a measure that will renew some tax credits for wind and solar power that were set to expire at the end of this year, as well as allowing more drilling for offshore oil.
This story from the San Francisco Chronicle says passage came after some contentious debate on the issue:
[House Speaker Nancy] Pelosi hailed the 236-189 vote as a victory because the bill also included Democratic priorities such as stripping oil companies of $18 billion in tax breaks, renewing expiring tax credits for wind and solar, and requiring electric utilities to get 15 percent of their power from renewable sources by 2020.
The measure "will put us on the path toward energy independence" and make "Big Oil pay for its fair share of our transition to a clean, renewable energy future," Pelosi said.
The measure is far from a done deal as it still needs to make it through the U.S. Senate where there are three other energy bills that are very different than the House bill. Plus, the White House has threatened to veto the measure.
I'm sure there'll be more to talk about on this in the next few days and weeks… stay tuned.