The U.S. Environmental Protection Agency is practicing what it preaches as the agency in charge of keeping America clean is testing a hydrogen fuel cell car that is part of its green fleet of vehicles.
This press release from the EPA says the Chevy Equinox Fuel Cell Car is the latest in American technology:
"EPA is turning the key on an engine of change, by turning fleet emissions from CO2 to H2O," said EPA Administrator Stephen L. Johnson. "EPA supports new technologies such as hydrogen fuel cells that are good for our environment and good for our economy."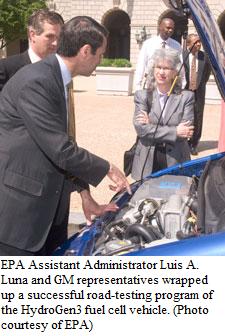 The vehicle, the forth generation Chevrolet Equinox Fuel Cell, is an electric car enabled by General Motors' advanced fuel cell propulsion system and is tested and engineered for 50,000 miles of driving life. With hydrogen as its only fuel, this vehicle emits no greenhouse gases and serves as an alternative to traditional, petroleum-dependent vehicles that emit carbon dioxide, nitrous oxide, and other air pollutants. Featuring the latest advancements in fuel cell technology, the vehicle can travel up to 150 miles per fill-up, and is expected to meet all applicable 2008 federal motor vehicle safety standards.
The project has been made possible through cooperation with the U.S. Department of Energy in the form of a grant from the DOE to pay for a six-month lease on the vehicle.