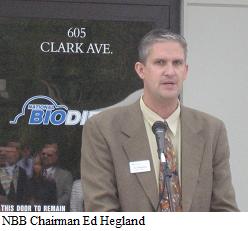 During this week's ribbon-cutting ceremony at the new National Biodiesel Board building in Jefferson City, those in attendance included local and state officials and nine members of the Board from around the country.
Ed Hegland, chairman of the NBB, told the crowd that as a family farmer from Appleton, Minnesota he has felt the pain at the pump as fuel prices have skyrocketed.
"However, prices would be about 15 percent higher if biofuel producers were not increasing their output, according to a US Department of Energy estimate," said Hegland.
And Hegland said that with increased efficiencies, America's farmers are able to produce the energy AND the food the world needs.
"With biodiesel, we can have both food and fuel."
Listen to Hegland's remarks here: NBB chair Ed Hegland [audio:http://www.zimmcomm.biz/domesticfuel/EdHeglandceremony1.mp3]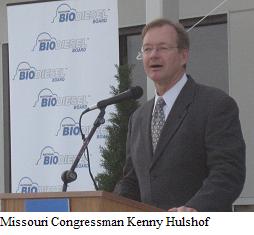 Another speaker at the event was Missouri Congressman Kenny Hulshof, who is also the Republican candidate for governor in the state. He said in the halls of Congress, he was unaffectionately known as "Mr. Biodiesel" for his insistence on federal incentives for the fledgling biodiesel industry. He faced plenty of opposition from folks who asked why can't the free market
"When you are competing against an industry (petroleum) that is heavily subsidized and has been heavily subsidized for decades, we have to provide some incentives for us to compete," said Hulshof. And the congressman said all the biodiesel industry wants is that fair playing field.
He added that the tax dollars that go to help the biodiesel industry come back to America in the form of jobs and the hope of energy independence from countries who might not have the U.S.'s best interests at heart.
"Rather than look to the Mideast, let's look to the Midwest."
Listen to Hulshof's remarks here: Rep. Kenny Hulshof, Missouri [audio:http://www.zimmcomm.biz/domesticfuel/Hulshofceremony1.mp3]