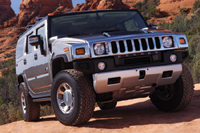 Starting in October 2008, General Motors (GM) will begin making the model year 2009 Hummer H2 E85 compatible. The H2 will be the only model of its kind that has the standard engine as flexible fuel.
"A Hummer's off-road capability and care for the environment are in no way mutually exclusive," Hummer General Manager Martin Walsh said in a statement. "This is simply one more step in our effort to promote responsible adventure."
"Using biofuels, specifically E85, is the most significant thing we can do in the near-term to offset rising future energy demands" says Beth Lowery, GM vice president of Environment, Energy and Safety Policy. ""We believe ethanol used as a fuel, not just as a gasoline additive, is the best near-term alternative to the surging global demand for oil because ethanol is renewable and it significantly reduces CO2 emissions compared to gasoline. Best of all, it is available today."
GM plans on debuting the Hummer H3 as E85 compatible later in 2009. Nearly 3.5 out of the 7 million flexible fuel vehicles on American roads are manufactured by GM.