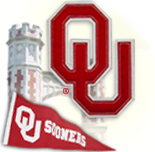 Oklahoma might be famously known for its "winds that come sweepin' down the plains," and one of the leading universities in the state is going to put that to work.
The Oklahoma City Oklahoman reports officials with the University of Oklahoma in Norman have inked a deal with Oklahoma Gas and Electric to buy nothing but wind power for the campus by the year 2013… a significant increase over the 10 percent wind power the school uses now:
[OU President David] Boren said the switch will cost about $60,000 in initial surcharges, but the university could end up breaking even or making a profit by selling carbon credits on the Chicago Climate Exchange and participating in investment funds with OG&E.

"It is our patriotic duty as Americans to help our country achieve energy independence," Boren said at a news conference at OU. "We should become a national role model for the environment."
Boren said OU would be the nation's largest public college to convert to renewable energy.
The deal is dependent on a new wind farm going up near Woodward, OK and about 140 miles worth of transmission lines to carry the power to Oklahoma City… both of which still to be approved by the state's Corporation Commission.