Yesterday, I tried to bring you some of the sights and sounds of the ribbon-cutting ceremony at the National Biodiesel Board's new, eco-friendly building in Jefferson City.
Today, I've got a few pictures from the inside and outside of the building I'd like to share.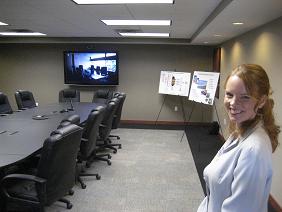 Jenna Higgins Rose, the friendly communications director at NBB, gave me the "nickel tour" (although it didn't cost a dime!) of their new digs. That's Jenna on the right, showing me the new conference room with a state-of the art video conferencing system with the NBB's office in Washington, DC (that's a picture of the DC office on the screen). This is just one example of how the good folks at NBB are really practicing what they preach. Doing a conference over a video conference saves them not only thousands of dollars and many hours of travel time, but they greatly reduce their carbon footprint by not burning the fuel needed to fly to the various locations that this truly national organization covers.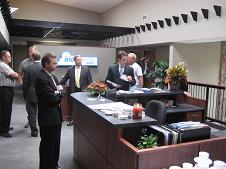 .
.
.
.
This is a shot of their lobby… a very welcoming place, especially on grand opening day, as they laid out a fine array of muffins, cookies and other bakery delights to greet the many guests who took part in their open house.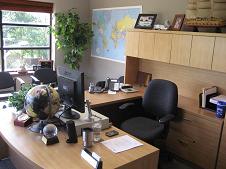 Talk about clean! Have you ever seen a desk this well kept? Well, not if you've ever visited my cubicle! This is Joe Jobe's office. Just like the rest of the new NBB building… actually a "recycled" building that used to belong to the Catholic Church… the floor is covered in carpeting made of 100 percent recycled materials. The walls are covered with non-toxic paint, the lights are powered by sensors that know when someone has entered or left the room to shut off and on automatically (not to mention the generous use of windows to take advantage of the sunlight during most of the office hours) and even parking lot lights that are powered by stored up solar energy from the day. I thought it was interesting how globes play a major part of Joe's office decor. This shows you that he is truly a man of the world who understands the global reach of what they're trying to do at NBB.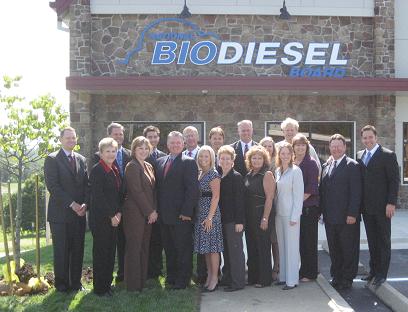 This last shot gives you a chance to see the fine staff who now have a building of their own to call home. They were grateful to Dale Ludwig and the Missouri Soybean Association to letting them "grow up" the past 15 years in "Dale's basement." But like any growing teen, they wanted a space of their own, and now they can call this beautiful, "green" building home for years to come. Congratulations, folks!
I'll have some more audio and pictures coming from the ceremony in the next couple of days, but I need to wrap up the tour here. Don't forget to grab a muffin on your way out (I know I did!)!