In a first of a kind effort, a broad coalition of ethanol producers, automakers, agricultural advocates, convenience store owners, petroleum marketers, and equipment manufactures, are encouraging the Speaker of the U.S. House of Representatives to include tax credits that support new alternative fuel infrastructure in any pending energy bill or stimulus package.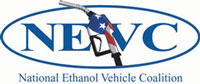 "Both Presidential candidates and several members of Congress have recently called for mandatory production of flexible fuel vehicles," stated Executive Director of the National Ethanol Vehicle Coalition, Phil Lampert. "We support increased production of flexible fuel vehicles or FFVs, but frankly, that overlooks the primary issue which is the lack of sites to fuel these vehicles."
The broad coalition sending the letter to the Speaker is encouraging that H.R. 6734, the E85 and Biodiesel Access Act introduced by Congresswoman Stephanie Herseth-Sandlin (D-SD) and Congressman John Shimkus (R-IL), be included in any energy legislation that may be approved during this session of Congress. This act would enhance the Alternative Fuel Vehicle Refueling Property Credit.

"The inclusion of the E85 and Biodiesel Access Act in any energy bill or potential stimulus package is critical as it provides fuel retailers with more meaningful assistance in making clean-burning biofuels available to motorists," stated Executive Vice President for the American Coalition for Ethanol, Brian Jennings.
Vice President for Government Relations of the National Association of Convenience Stores, John Eichberger, stated that the legislation would, "overcome one of the major obstacles to the availability of alternative and renewable fuels infrastructure by offsetting a major portion of the expense of such equipment."