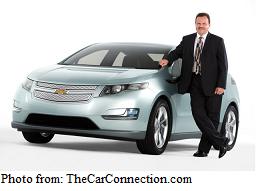 It appears that someone might have jumped the gun a bit when General Motors released the first pictures of the production version of its much-anticipated electric car, the Chevrolet Volt, earlier today.
According to this article in the Detroit News, the pictures of the Volt (seen on the right here, thanks to a quick blogger at TheCarConnection.com who was smart enough and in the right place at the right time to save the pictures before they could be taken off GM's web site) were supposed to go out next week:
Ten photos were briefly posted on GM's media Web site, and an external site, and promptly picked up by auto bloggers around the world.
"Those were put up in error and taken down quickly thereafter," Chevrolet spokesman Terry Rhadigan said. "It was not intentional."
The release comes a week ahead of the automaker's 100th anniversary celebration, during which the Volt is expected to be unveiled officially.
But how much the posting was an accident remains to be seen:
The blogger who found the photos Monday before they were taken down suspects the release was a publicity move by the automaker.
"I think they're getting very good at playing the game of public relations," said Marty Padgett, editor of thecarconnection.com. "Everyone is interested (in the Volt), so why not let some teases float out there?"
It looks like TheCarConnection.com is getting a lot of feedback on the new pictures… some good, some bad. You can see more of the photos and read the comments by clicking here.