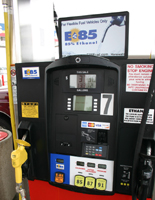 According to the Glenwood Springs Post Independent, the owner of the Basalt Center Fuel site at 122 Midland Ave. in Basalt, Colorado, stated that E85 sales are up from last year. Bruce Ross said that E85 sales grew with some initial publicity, settled down a bit and then grew steadily.
Ross noted that about eight percent of total sales last year after the center began selling E85 in March. E85 sales made up about 12 percent of sales last month at 6,000 gallons. Additional figures weren't immediately available.
One of the reasons Ross purchased the fueling facility in October 2006 was to sell E85. "We thought it was a really good thing that needed to be in the valley," he said. "I thought it was important. I thought that this valley would support it being the kind of place that we are. To the extent that people who can use it do use it, I think I was right."
E85 is being sold for nearly a dollar less than regular unleaded gasoline at Basalt Center Fuel.