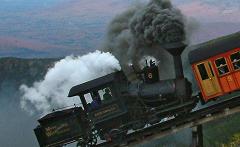 For nearly 140 years, the Mount Washington Cog Railway has chugged its way to the top of the highest peak in the Northeastern United States… belching out tons of thick, black smoke as it used a unique cog system to make the incredible climb up the treacherous incline.
But now, thanks to biodiesel, that smoke will be a bit cleaner. This story on the WBZ-TV web site says New Hampshire Governor John Lynch presided over the dedication of the cleaner engines:
For 139 years, the Railway has chugged to the top of Mount Washington by burning wood and coal. Coal replaced wood around 1910, and each trip required more than one ton of coal and 1,000 gallons of water to move the 18-ton engine.

With the dedication of the new locomotive, the Railway signaled that it will supplement the coal-fired trains with several biodiesel engines, cutting emissions and the use of fossil fuels.
Lynch broke a bottle of water from the Ammonoosuc River on the engine's cab and an American flag was removed to reveal the locomotive's name: Wajo Nanatasis. The name, pronounced "Wadzo Nanna-tassis" is Abenaki for "Mountain Hummingbird" and was selected from entries in a "Name That Train" contest.
The railway is a National Historic Engineering Landmark, as it was the world's first mountain climbing railroad using a toothed cogwheel to engage the track between the rails. Now, it has biodiesel to add to part of its rich history.