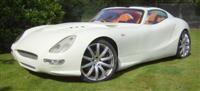 High performance and great gas mileage don't have to be exclusive, as British-based Trident Performance Vehicles proves with its Iceni two-seater sports car.
This article from gizmag.com says the company is nearing production of the green, turbo-charged roadster that can go 200 MPH and still get 100 MPG (although at quite a bit slower speed:
The car's 6.6 litre turbo diesel V8 develops 550bhp@3800rpm and an arm-stretching 950lb/ft of torque at just 1800rpm, meaning it can be leisurely potter around short-changing at ballistic speeds. Not only does it get to 60 mph in under four seconds (a serious supercar time), it'll do 200 mph, deliver 70 mpg at 70 mph, and if you treat the throttle very gently, it'll deliver 100 mpg.
Testers say you would only get the 100 MPG if you drove only 30 MPH.
At about $135,000, the Iceni won't be in my driveway anytime soon, but it does show that you can have it all, performance and gas mileage… if you can afford it!