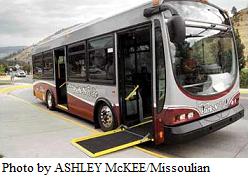 Riders of the new biodiesel bus at the University of Montana in Missoula won't get just a clean ride on an eco-friendly piece of mass transit… they'll get all that for free.
This story from the Missoulian says drivers could end up fighting over who gets to get behind the wheel of the 50-passenger bis:
The new addition is the sixth bus in UM's commuter fleet, and it couldn't come at a better time, [Nancy Wilson, director of the Associated Students of the University of Montana's Office of Transportation] said.
"Last year, the bus system shuttled 314,000 people," she said. "We expect an increase in riders this year because of the high price of gas, the difficulties in finding campus parking and because more people are concerned about being more environmentally friendly."
Riders will get to enjoy that "new bus smell," while knowing they're doing their part for the environment.