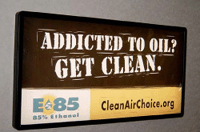 As the Republican National Convention approaches the week of September 1, the state of Minnesota prepares for the crowd. Minnesota boasts the largest number of E85 fueling locations throughout the country, 354 to be exact, and they will flaunt it.
The American Lung Association of the Upper Midwest confirmed that when walking through the skyways in Saint Paul during next week and throughout the month of September, visitors are likely to see the 'Addicted to Oil?' E85 skyway signs in the US Bank Building and Town Square. Others driving to Saint Paul from Minneapolis and the western suburbs will also see a similar billboard beside I-94. In addition, E85/FFV :30 ads will be playing during coverage of the Republican National Convention on the local NBC affiliate.
Finally, a special E85 promotion will be available for flexible fuel vehicle owners in Eagan, Minnesota on Wednesday, Sept. 3. Holiday Station Stores and the MN Clean Air Choice Team will offer E85 for an extra $1.00 off the current posted price between 11 a.m. and 1 p.m. at 2660 Eagan Woods Drive.