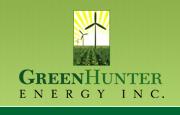 GreenHunter Biofuels has announced that its Houston biodiesel refinery has hit 50 percent of its 105 million gallon per year capacity at the nation's largest biodiesel refinery.
This company press release says the plant uses mostly animal fats, primarily poultry fat and beef tallow to make the green fuel:
GreenHunter BioFuels is currently contracting for sale its first 4000 metric ton parcel of B100, or 100% biodiesel, to a purchaser with an anticipated ultimate delivery into the international markets.
Commenting on GreenHunter BioFuels' recent operational achievements, Bruce Baughman, Senior Vice President of Engineering and Technology, stated, "Successfully achieving 50% of nameplate capacity at such a highly technical refinery is a testimony not only to the quality of this unique asset, but to the outstanding work conducted by our plant personnel during this start-up period. By designing a refinery that has the ability to take a multitude of different feedstocks, GreenHunter has the ability to source and procure the least expensive raw materials possible around the world. This allows our Company to achieve the greatest possible operating margins within the business today. We believe the distilled, 'water-white' quality performance of the GreenHunter Biofuels facility will contribute to a new quality standard in the global biodiesel marketplace."
GreenHunter Biofuels is a subsidiary of GreenHunter Energy, a company focused on renewable energy sources, such as wind, hydro, geothermal, solar, biofuels, and biomass power plants. It has plans for wind energy projects in Montana, New Mexico, Wyoming, California, Texas, and China.