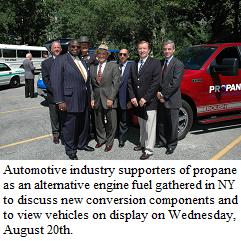 Motorsports legend Jack Roush joined a group of auto company executives, fleet operators and propane marketers to demostrate to the press and public some propane-fueled vehicles in New York City.
The event was hosted by the Propane Education & Research Council (PERC), and this press release from the council says a Ford propane F-150 pickup developed by Roush Industries was the demonstration vehicle: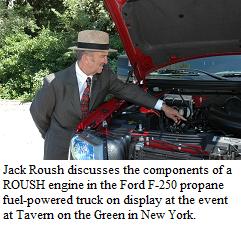 "Aside from its superb engineering, this F-150 is a propane alternative-fueled vehicle that has an established refueling infrastructure to support it," said Jack Roush, chairman of the board of Roush Enterprises and CEO and co-owner of Roush Fenway Racing, Livonia, Michigan. "It has lower greenhouse gas emissions than gasoline and diesel pickups and costs less to operate, and it contributes to the reduction of America's dependency on foreign oil."
The other propane-fueled on-road vehicles on display also drew a great deal of interest from fleet operators: a Blue Bird Vision school bus, a medium-duty General Motors truck, a Ford Crown Victoria police cruiser, and a Chrysler 300 sedan. "School administrators using the propane-fueled bus like its performance and its low operating costs," said PERC Vice President Brian Feehan. The Blue Bird Propane-Powered Vision is factory-built to operate on propane and features the GM 8.1-liter V8 engine with a liquid propane injection system.
The release goes on to point out that, for a long time, propane has been a popular fuel for vehicles such as forklifts and some off-road vehicles. It's now gaining more acceptance in fleet vehicles, such as buses, taxis and police vehicles. While propane is currently in 11 million vehicles, that number is expected to grow as the cost of conventional fuels and worries over greenhouse gases continue to rise. It's estimated that propane could trim up to 30 percent of fleets' fuel costs.