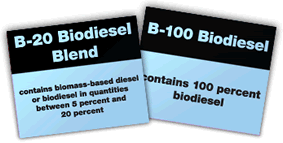 This December, the Federal Trade Commission's new rules on labeling of biodiesel pumps kicks in. Basically, pumps that dispense greater-than-5-percent biodiesel blends will have to have a label indicating that pump's blend.
The National Biodiesel Board hosts a web site, AllThingsBiodiesel.com, that sells the new labels… among the many other objects sold there:
"Our goal is two-fold. We want to help petroleum retailers comply with the labeling law as painlessly as possible, while at the same time expand their marketing efforts," said Doug Whitehead, Director of Operations for the National Biodiesel Board. "We have eye-catching pump topper kits available for sale, for those whose goal is to not only comply with the regulations, but actually market biodiesel to consumers and boost demand."
The FTC published the final ruling on biodiesel pump labeling on June 23. One of the approved labels is for blends between 5 and 20 percent and the second is for B100 (100 percent biodiesel). If a retailer has a blend between 21 and 99 percent, an order can be placed on AllThingsBiodiesel.com. Hosted by NBB, All Things Biodiesel is the premier online biodiesel marketplace. It houses a directory, an information exchange, classified ads and a store for biodiesel merchandise and marketing materials.
Blends of 5 percent biodiesel and less do not need the label since they meet all the same standard for petroleum diesel, D975.