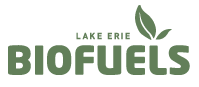 Lake Erie Biofuels, the Pennsylvania biodiesel maker with a 45-million gallon a year biodiesel refinery on the shores of Lake Erie (so it's not just a clever title) is reportedly considering building a pipeline from its plant to the ports of Erie, PA… but company officials aren't saying much about the project.
However, the Erie Times-News did find somebody who would talk:
Raymond Schreckengost, executive director of the Erie-Western Pennsylvania Port Authority, said the authority has had "very preliminary" discussions with a company about the project.
Lake Erie Biofuels officials could not be reached for comment.
Schreckengost said the company is now transporting about 1.5 million to 2 million gallons of biofuels a month by railroad cars to the port for shipment.
The pipeline would probably be about 6 inches in diameter and would follow the path of an existing sewer line that extends from the former International Paper Co. property, where the biofuels plant is located, to the city's wastewater treatment plant and then to the port's facilities.
The article goes on to say that Lake Erie Biofuels plans to pay for the pipeline itself, if it decides to build it, IF it is economically feasible. Port authority officials say they would help the company find a grant to help fund the project, if needed.