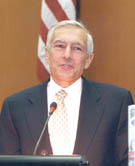 General Wesley Clark, the former Supreme Allied Commander of military forces in Europe and former presidential candidate, will be leading the opening day's session at the HUSUM WindEnergy trade show and congress in Husum, Germany Sept. 9-13, 2008.
Clark will be speaking at the "Wind Power Forum: The New Energy Economy," at the conference.
HUSUM is the world's largest, longest-running and best-attended wind energy industry trade show, congress and job fair taking place in Husum, a small North Frisian coastal town.
More details about HUSUM are available at the event's web site.