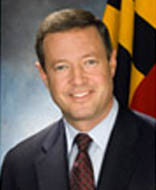 Ethanol Producer Magazine reports that Maryland Governor Martin O'Malley and Lt. Gov. Anthony Brown recently annouced plans to build four new E85 fueling facilities in the state. The facilities are tentatively planned for Easton, Hagerstown, La Plata, and Salisbury, Maryland. The governor also announced that state flexible fuel vehicles will use E85 at the newly installed pumps at the Maryland State Police barracks and State Highway Administration facilities.
"As the state purchases new vehicles for its fleet, more and more of our cars, trucks and vans will run on alternative fuels," said O'Malley. "With these new E85 facilities, we'll continue to make Maryland's transportation fleet less dependant on fossil fuels, strengthening the energy future of our state for generations to come."
"Our commitment to strengthening our sustainable future for our children is evident in the investments we make," said Maryland Lt. Gov. Anthony Brown. "Maryland will stand up for the environment and future generations by investing in sound, renewable energy policies like the construction of facilities like these."
The governor also announced that the Department of General Services were to use a five percent blend of biodiesel in the state vehicle fleet when possible.