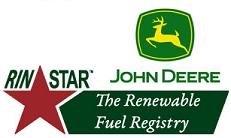 John Deere Agri Services has teamed up with Clean Fuels Clearinghouse, developer of the RINSTAR™ Renewable Fuel Registry, to provide Renewable Identification Numbers (RINs) and reports that meet the requirements of the Renewable Fuel Standard.
This press release from John Deere says AGRIS V9 system users will be integrated with the RINSTAR solution:
The RIN-based system was created to identify, measure, and track batches of renewable fuel. RINs are unique serial numbers that renewable fuel producers or importers assign to each batch of fuel produced or imported and must be reported to the U.S. Environmental Protection Agency and listed on product transfer documents if the batch is transferred to another party. Each year refiners, blenders, and importers obligated to meet the renewable volume requirement must acquire sufficient RINs to demonstrate compliance. RINs can be traded and serve as the currency for the credit trading program.
"We are pleased to provide our biofuel producer customers an efficient, straightforward process to manage RIN compliance," says Tom Angell, director of marketing for John Deere Agri Services. "By having the ability to communicate with the RINSTAR registry, our customers can focus on their business and reduce effort to meet Renewable Fuel Standard reporting requirements."
"The renewable fuel registry interacts with more than 450 companies each day throughout the entire renewable fuel supply chain," notes Clayton McMartin, president of the Clean Fuels Clearinghouse. "This partnership further expands the universe, bringing more certified RINs to the market and more confidence to the transactions."