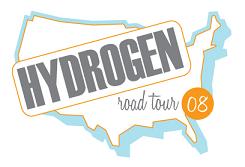 A 13-day cross-country road tour running on hydrogen kicked off this week in Portland, Maine and will wrap up in Los Angeles, CA… 31 stops and 18 states later, hoping to convince the public that hydrogen is the fuel of the future.
This story from the New York Times says eight different car makers started the tour… with the American companies conspicuously absent. But General Motors, which has put more a billion dollars in hydrogen technology, joins the tour in New York, Washington and Los Angeles:
The 2008 Hydrogen Road Tour includes some highly touted, state-of-the-art technologies like the Honda FCX Clarity fuel-cell sedan, which has a 280-mile range on four kilograms of hydrogen (the energy equivalent of four gallons of gasoline) compressed at 5,000 pounds per square inch. The tour also showcases some fuel-cell vehicles that have been less frequently seen on U.S. roads, including the Hyundai Tucson and Kia Sportage FCEVs, Nissan X-Trail FCV and Volkswagen HyMotion Tiguan.
The odd man out is the BMW Hydrogen 7, which burns super-cold cryogenic liquid hydrogen; BMW claims that emissions from the Hydrogen 7 are actually cleaner than the ambient air.
The Hydrogen Road Tour is co-sponsored by the National Hydrogen Association, the Department of Energy, the Department of Transportation and the California Fuel Cell Partnership.