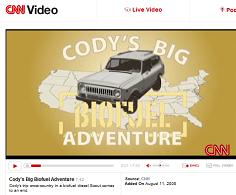 Two weeks and more than 4,000 miles after they left San Francisco, CA, a CNN producer and his web developer colleague have rolled into CNN headquarters in Atlanta, GA… finishing up their cross-country, biodiesel-fueled road trip.
Along the way, the pair sent in reports from the road detailing their trials and triumphs of taking a 1978 International Harvester Scout across the nation, while learning a little more about the biofuels business. This is their final entry on the blog:
Well… here we are. We made it back to Atlanta in (mostly) one piece after a two-week journey I'll never forget. This morning my colleague Brian Hardy and I did a little recap video interview with CNN.com Live which you can see here. We also have an iPhone review (it never left my side) that we'll put up a little later.
Four-thousand miles later — and many gallons of bio and regular diesel — I would call this road trip a success. It wasn't perfect — but we talked to a lot of people, saw a lot of things and learned a good deal about biodiesel fuel and long-distance travel.
Now, it can be debated how much good they really did for the image of biodiesel, driving an old vehicle without making the proper preparations for this long of a trip. My understanding is they had trouble finding biodiesel… until our friends at the National Biodiesel Board provided them with a listing of biodiesel stations that were along the way.
I agree that they could have focused more on the positive aspects of biodiesel… instead of the emphasis on their old truck. But they did prove to the novices who tuned in and logged on to their adventure that biodiesel is a viable fuel.